You do it every time to open a can: pull on the pop tab. In the past all they used to be good for was fundraising for schools. Now people are getting crafty with the little buggers and you wont believe what they've come up with. If your curious…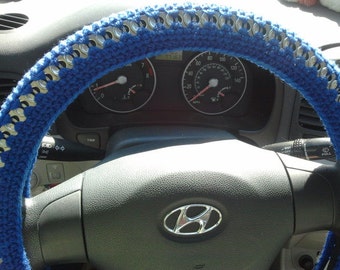 I've seen a lot of people making bracelets, chains, belts, headbands, you name the accessory it's probably out there. Heck, I've even seen a steering wheel cover made of pop tabs. A woman called stephsyaya makes and sells these on Esty.com.
I'm nowhere near as talented as this but I too have dabbled in the fusion of crochet and pop tabs. My recent craft experiment turned out to be Christmas gift to my mom. Here it is!
This is one of the simplest projects to do with pop tabs. Each heart is made from two pop tabs crocheted together with a chain connecting it to the clip.
I have more yarn scraps than I know what to do with and a few tabs left over from friends collecting them for me. All I needed to buy for this project was the clip. I got it at Joanns in a pack of assorted Lanyard Hooks, Split Rings And Key Rings for $3.
The inspiration for this I found a few months back. I've said it before and I'll say it again: "Youtube is dangerous." I found a video on how to do this by Yolanda Soto Lopez. This is the same woman who taught me how to make the Black Poncho that Pickachu modeled last year.
So far, mom loves the gift but hasn't clipped it to anything. This would be a quick and easy thing to make for a friend or family member for any occasion. This heart shape can also be used to create crochet bags and coaster.
With crafting, your only limitation is you imagination.